Reggae and Dancehall fans worldwide can begin to nominate artistes to contend for top honors at the 38th International Reggae and World Music Awards (IRAWMA), which is scheduled t take place on Sunday, March 29, 2020 at the AC Marriott Hotel, in Kingston.
Nominations are now open for submission across 36 categories, which include Recording Artiste of the Year, Entertainer of the Year, Best Male and Female Vocalists, Best Song, Best Album, Best Crossover Song, Best Gospel Song, Best New Entertainer, Best Male and Female Deejays, among others.
Nominations can be placed via the IRAWMA website. In addition to the 36 categories for open nominations, special awards will also be given in three other classifications, namely the Special Freedom Fighter Award of Honour, Hall of Fame Inductee, and the Special Martin's Award of Honour.
The 2020 staging will be the fifth time the awards is being staged in Jamaica. The IRAWMA was established in 1982 and seeks to acknowledge and honor the accomplishments and contributions of world reggae artistes, songwriters, performers, promoters, and musicians, as well as promote greater participation and acceptance of Reggae, Caribbean and World Music, internationally.
The awards which is produced by Martin's International has been staged in several major cities in North America, including Atlanta, Chicago, Fort Lauderdale, Miami, New Orleans, and New York. It has even been held in Port of Spain, Trinidad, and both Montego Bay and Ocho Rios.
At the 2019 event, which was held in Kingston in May, Popcaan copped both the Entertainer of the Year and the Best Album Awards, while Chronixx took home the Male Vocalist of the Year title. Chronixx's his compatriot Koffee was presented with the Female Vocalist, Best New Entertainer Award, and Best Teen Entertainer awards.
Incarcerated deejay Vybz Kartel was awarded the Best Song for his Under Water single.
Glory To God by Wayne Marshall featuring Tessanne Chin and Ryan Mark voted the best Gospel Song, while the Best Male and Female Deejays were Vybz Kartel and Spice, respectively.
Cardi B Turn Way Up In Nigeria, Drop Racks At The Strip Club
Cardi B was turning all the way up in Nigeria.
Cardi B's superstardom has taken her around the world, but we haven't seen her have quite as much fun as she's having in Nigeria. The "Money" rapper spent a lot of it Friday night after visiting a strip club in the African nation. Cardi has always been vocal about her past occupation in New York strip clubs, and every time we get a glimpse of her visiting a club, she shows the dancers major love.
Cardi B posted a series of clips to her Instagram Stories of her spending racks on racks in her section full of dancers. She even made it rain on the local fans who were in attendance, watching it all from the dancefloor. When she first arrived in Lagos, Nigeria, where she's billed to perform at the Livespot X Festival, she told her fans that the country reminded her a lot of the Dominican Republic, a comparison that garnered mixed reactions on social media.
Nonetheless, Cardi showed her intentions were pure and continued to big up Nigeria when she returned back to her hotel via Livestream. "I like this country a lot. You want to know why I like this country? Because you find everything that you're really looking for in this country," she said.
Cardi B having a BLAST in Nigeria! ???
pic.twitter.com/C9sGK3ekfb

— Cardi B Fan Team (@CardiBTeam) December 7, 2019
"You know this country [has] tourism, like if you want to go to beaches and relax with your couple, with your husband with your wife. They have that. If you're looking for culture, if you want to see how people are living, how people make a living, you have that. Over here it reminds me of the Carribean Islands with a touch of New York because everybody is busy."
Nigeria looks like the Dominican Republic – @iamcardib pic.twitter.com/8p2Siz8Mvx

— African Khaleesi (@OwolawiTaiwo) December 6, 2019
Cardi B also offered to pay for a fan's tickets to the festival after reposting a video of a Nigerian girl in tears saying she wasn't permitted to go. The "Bodak Yellow" star said Saturday morning that she was looking to visit the "hood" and wanted to be amongst the people. "I want to see like the real Nigeria. I don't want to eat hotel food. I want to eat like the real Nigerian food. All that fish, all that jollof rice."
You can catch a recap of Cardi B's Nigerian experience so far below.
Cardi B is a really amazing person and a gem ?, look at how she was promoting Nigeria in her live Story, Not every celebrity can do that for Africa. She's really enjoying her time here, I love it..
Even our own yeye Celebrities no fit promote the country ??, we are our own prob pic.twitter.com/OE4fVSP7wk

— Ojedele Ridwan (@gracewillfindme) December 7, 2019
Cardi B is a vibe ??? babe says she wants to see the real Nigeria, the hood, jollof and whores ??? pic.twitter.com/djhZYsrt6n

— Tessyama ? (@tescool) December 6, 2019
Cardi B in Nigeria! She looks so good! ?
pic.twitter.com/k1FylF4rjR

— Cardi B Fan Team (@CardiBTeam) December 6, 2019
With the way Cardi B was hyping Nigeria here ehnn! To visit Nigeria come dey hungry me ?

— E-zrael Ani (@EzraelAni) December 7, 2019
Nicki Minaj Ex Safaree Samuels Regrets Leaked Eggplant As He Becomes A Father
Nicki Minaj ex-boyfriend Safaree Samuels says his leaked eggplant is the one thing he regrets the most now that he is becoming a father.
There are only a few weeks to go before Safaree adds a new title to his resumé — father. The Love & Hip Hop star is expecting his first child with his wife, Erica Mena, who is already in her third trimester. After dating Nicki Minaj for 14 years, Safaree became engaged to Erica on Christmas Eve 2018. Ten months later, they said their "I do's" at the Legacy Castle in New Jersey, with the newlyweds confirming that a baby is on the way.
While it is often said that the first year of marriage is the hardest, the few months leading up to their engagement was pretty hard for the couple all because the internet got a little too into their business. One of Safaree's alleged ex-girlfriends exposed some text messages between them.
In February 2018, Safaree hung out for all the world to see, as photos his eggplant was leaked online. The dick pic initially circulated on social media, with its source never quite determined — though some believe the former rapper himself was responsible, in order to steal a little bit of the spotlight. So impressive was his member that a porn actress offered him $50-grand to shoot a steamy scene.
In case Y'all thirsty, he declined.
Even though he turned down the chance to be the male version of the next Jenna Jameson, the 38-year-old is worried that his future daughter will one day find those less-than-flattering photos.
"Having a daughter, I would hope that she wouldn't go Google my name one day and see a picture of my meat hanging out," he said when asked on The Real if he has any regrets as fatherhood approaches. "So if there was something I could take back — I didn't do it though!"
We are sure, however, that the couple will be encouraging their baby girl to look up pictures of the baby shower they threw in her honor. Pink balloons and pink roses were present at the Met Gala-themed affair where the mom-to-be wore a stunning rose-colored gown created by fashion designer Karen Sabag, and designer baby clothes were gifted for the princess-in-waiting.
Eminem Associate Obie Trice Arrested After Shooting At His Home Wounded One Person
Eminem associate Obie Trice was arrested for assaulting a member of his family.
We're not sure if Obie Trice should be counting his blessing or cursing his actions after what went down at his home on Friday morning. The veteran rapper was allegedly in an altercation with his girlfriend and her 18-year-old son during the early hours of Friday. The police local police were alerted to their home located in the Detroit suburb of Commerce Township, Michigan, by concerned neighbors after they heard shouting coming from the house.
The police spoke to the female victim and the 42-year-old rapper who was allegedly drunk when the incident went down. The Oakland County Sheriff's Office put out a statement about what allegedly happened between the rapper and his girlfriend.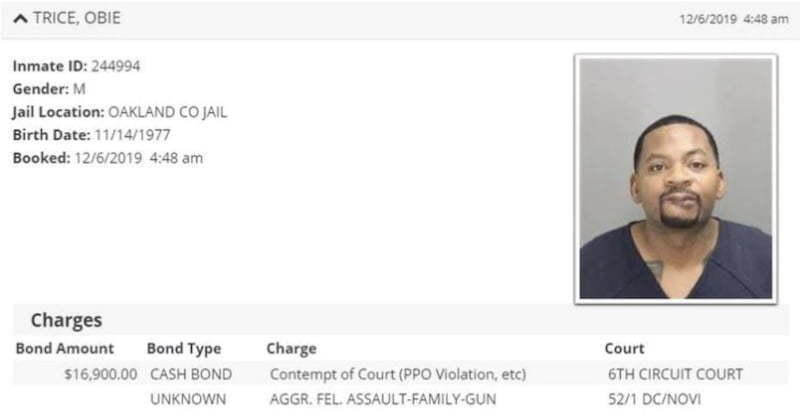 According to the police report, Obie Trice and his girlfriend, who resides together, has an argument when a gun came into play, Local 4 Detroit reported. That's when her son intervene which resulted in the two of them wrestling for the weapon which went off hitting the youngster in the groin.
"The son observed the firearm in the boyfriend's hand and feared he was going to be shot, so he attempted to disarm him," the police statement reads. "They struggled over the gun, and both went to the ground. The firearm discharged, and the son was struck in the groin area."
Obie Trice, who was a member of Eminem's Shady Records, was arrested on two charges, which include felony assault of a family member with a gun and contempt of court for violating a protective order. His bail is currently set at $16,900.
In light of all that has happened, he should be counting his blessing that the victim was not actually inflicted with more severe wounds, and he should also be bashing himself that he allowed things to escalate to that level.
We await further information as the story develops.