Bounty Killer has regained control of his Instagram page just over a week after it was hacked.
However, the Grunggadzilla, though expressing relief, is still cross, angry and miserable about the violation by the rascals, and took to Instagram to where he used his first post to reiterate his disgust and give the perpetrators a piece of his mind. "PUBLIC ANNOUNCEMENT: Finally mi got mi bumbcl**th page. Go hack unuh mumma p*ssy bumbo ole unuh can stop di General nuh time never ever!" Bounty posted under a photograph of himself.
Bounty Killer also made the same post on his temporary IG page dubbed 1unogeneral. His fellow deejay Popcaan found his tirade amusing.
"P***y dem try sell mi page fi 5 bills," Bounty told Popcaan amidst some laughing emojis.
Bounty also used the opportunity to thank the officials at IG and Solid Agency's Sharon Burke for their efforts in retrieving his page.
"Buss a bottle in celebration of getting forward my official page dem want mi fi rage," he noted on another post. "Big Thank You to Sharon Burke and ? Instagram Support Team who worked tirelessly on this tedious matter to get it resolved. Bless up to all my loyal followers who had unfollowed the page instantly, but both pages will be active same way. Feel free to follow both or anyone Alliance Fi Life AFL/ANG!!" the One General said.
The Killer's Instagram page which has in the region of 445,000 followers, was hacked just over a week ago by what appeared to be a seller of shoes and renamed Enes Demir Official Account, forcing the Seaview Gardens native to create a new account.
Bounty went into a tirade after he discovered the atrocity, declaring that hacking was seemingly the new way to scam unsuspecting persons. At the time, he noted that his page was hacked by someone from Turkey, who had gained access to his phone number and had contacted him about returning his page to his control.
The Killer also fingered one of Jamaica's mobile companies as the area from where all the problems stemmed, as their workers were seemingly in cahoots with the hackers on Instagram and were giving out customers' phone numbers. Bounty said he made that observation because he had changed his password numerous times before his page, which was certified by IG, was hacked, and had also turned on its two-way authentication email or text code, which "has to be received before password could be changed."
Cardi B Turn Way Up In Nigeria, Drop Racks At The Strip Club
Cardi B was turning all the way up in Nigeria.
Cardi B's superstardom has taken her around the world, but we haven't seen her have quite as much fun as she's having in Nigeria. The "Money" rapper spent a lot of it Friday night after visiting a strip club in the African nation. Cardi has always been vocal about her past occupation in New York strip clubs, and every time we get a glimpse of her visiting a club, she shows the dancers major love.
Cardi B posted a series of clips to her Instagram Stories of her spending racks on racks in her section full of dancers. She even made it rain on the local fans who were in attendance, watching it all from the dancefloor. When she first arrived in Lagos, Nigeria, where she's billed to perform at the Livespot X Festival, she told her fans that the country reminded her a lot of the Dominican Republic, a comparison that garnered mixed reactions on social media.
Nonetheless, Cardi showed her intentions were pure and continued to big up Nigeria when she returned back to her hotel via Livestream. "I like this country a lot. You want to know why I like this country? Because you find everything that you're really looking for in this country," she said.
Cardi B having a BLAST in Nigeria! ???
pic.twitter.com/C9sGK3ekfb

— Cardi B Fan Team (@CardiBTeam) December 7, 2019
"You know this country [has] tourism, like if you want to go to beaches and relax with your couple, with your husband with your wife. They have that. If you're looking for culture, if you want to see how people are living, how people make a living, you have that. Over here it reminds me of the Carribean Islands with a touch of New York because everybody is busy."
Nigeria looks like the Dominican Republic – @iamcardib pic.twitter.com/8p2Siz8Mvx

— African Khaleesi (@OwolawiTaiwo) December 6, 2019
Cardi B also offered to pay for a fan's tickets to the festival after reposting a video of a Nigerian girl in tears saying she wasn't permitted to go. The "Bodak Yellow" star said Saturday morning that she was looking to visit the "hood" and wanted to be amongst the people. "I want to see like the real Nigeria. I don't want to eat hotel food. I want to eat like the real Nigerian food. All that fish, all that jollof rice."
You can catch a recap of Cardi B's Nigerian experience so far below.
Cardi B is a really amazing person and a gem ?, look at how she was promoting Nigeria in her live Story, Not every celebrity can do that for Africa. She's really enjoying her time here, I love it..
Even our own yeye Celebrities no fit promote the country ??, we are our own prob pic.twitter.com/OE4fVSP7wk

— Ojedele Ridwan (@gracewillfindme) December 7, 2019
Cardi B is a vibe ??? babe says she wants to see the real Nigeria, the hood, jollof and whores ??? pic.twitter.com/djhZYsrt6n

— Tessyama ? (@tescool) December 6, 2019
Cardi B in Nigeria! She looks so good! ?
pic.twitter.com/k1FylF4rjR

— Cardi B Fan Team (@CardiBTeam) December 6, 2019
With the way Cardi B was hyping Nigeria here ehnn! To visit Nigeria come dey hungry me ?

— E-zrael Ani (@EzraelAni) December 7, 2019
Nicki Minaj Ex Safaree Samuels Regrets Leaked Eggplant As He Becomes A Father
Nicki Minaj ex-boyfriend Safaree Samuels says his leaked eggplant is the one thing he regrets the most now that he is becoming a father.
There are only a few weeks to go before Safaree adds a new title to his resumé — father. The Love & Hip Hop star is expecting his first child with his wife, Erica Mena, who is already in her third trimester. After dating Nicki Minaj for 14 years, Safaree became engaged to Erica on Christmas Eve 2018. Ten months later, they said their "I do's" at the Legacy Castle in New Jersey, with the newlyweds confirming that a baby is on the way.
While it is often said that the first year of marriage is the hardest, the few months leading up to their engagement was pretty hard for the couple all because the internet got a little too into their business. One of Safaree's alleged ex-girlfriends exposed some text messages between them.
In February 2018, Safaree hung out for all the world to see, as photos his eggplant was leaked online. The dick pic initially circulated on social media, with its source never quite determined — though some believe the former rapper himself was responsible, in order to steal a little bit of the spotlight. So impressive was his member that a porn actress offered him $50-grand to shoot a steamy scene.
In case Y'all thirsty, he declined.
Even though he turned down the chance to be the male version of the next Jenna Jameson, the 38-year-old is worried that his future daughter will one day find those less-than-flattering photos.
"Having a daughter, I would hope that she wouldn't go Google my name one day and see a picture of my meat hanging out," he said when asked on The Real if he has any regrets as fatherhood approaches. "So if there was something I could take back — I didn't do it though!"
We are sure, however, that the couple will be encouraging their baby girl to look up pictures of the baby shower they threw in her honor. Pink balloons and pink roses were present at the Met Gala-themed affair where the mom-to-be wore a stunning rose-colored gown created by fashion designer Karen Sabag, and designer baby clothes were gifted for the princess-in-waiting.
Eminem Associate Obie Trice Arrested After Shooting At His Home Wounded One Person
Eminem associate Obie Trice was arrested for assaulting a member of his family.
We're not sure if Obie Trice should be counting his blessing or cursing his actions after what went down at his home on Friday morning. The veteran rapper was allegedly in an altercation with his girlfriend and her 18-year-old son during the early hours of Friday. The police local police were alerted to their home located in the Detroit suburb of Commerce Township, Michigan, by concerned neighbors after they heard shouting coming from the house.
The police spoke to the female victim and the 42-year-old rapper who was allegedly drunk when the incident went down. The Oakland County Sheriff's Office put out a statement about what allegedly happened between the rapper and his girlfriend.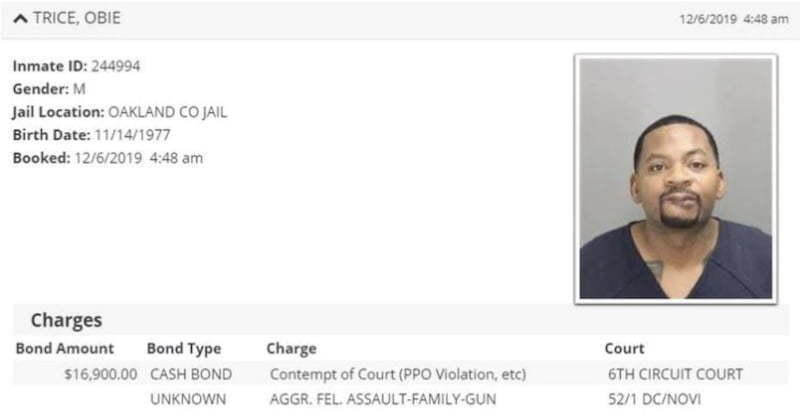 According to the police report, Obie Trice and his girlfriend, who resides together, has an argument when a gun came into play, Local 4 Detroit reported. That's when her son intervene which resulted in the two of them wrestling for the weapon which went off hitting the youngster in the groin.
"The son observed the firearm in the boyfriend's hand and feared he was going to be shot, so he attempted to disarm him," the police statement reads. "They struggled over the gun, and both went to the ground. The firearm discharged, and the son was struck in the groin area."
Obie Trice, who was a member of Eminem's Shady Records, was arrested on two charges, which include felony assault of a family member with a gun and contempt of court for violating a protective order. His bail is currently set at $16,900.
In light of all that has happened, he should be counting his blessing that the victim was not actually inflicted with more severe wounds, and he should also be bashing himself that he allowed things to escalate to that level.
We await further information as the story develops.