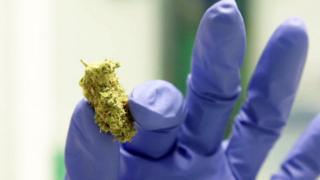 Two cannabis-based medicines, used to treat epilepsy and multiple sclerosis, have been approved for use by the NHS in England.
It follows new guidelines from the drugs advisory body NICE, which looked at products for several conditions.
Charities have welcomed the move, although some campaigners who have been fighting for access to the drugs have said it does not go far enough.
Both medicines were developed in the UK, where they are also grown.
Doctors will be able to prescribe Epidyolex, for children with two types of severe epilepsy – Lennox Gastaut syndrome and Dravet syndrome – which can cause multiple seizures a day.
Clinical trials have shown the oral solution, which contains cannabidiol (CBD), could reduce the number of seizures by up to 40% in some children.
Epidyolex was approved for use in Europe in September, but in draft guidance NICE initially said it was not value for money.
It costs between £5,000 and £10,000 per patient each year – but the manufacturer, GW Pharmaceuticals, has agreed a lower discounted price with the NHS.
It is estimated there are 3,000 people with Dravet and 5,000 with Lennox Gastaut syndrome in England.
The drug does not contain the main psychoactive component of cannabis, THC.
Decisions on drug availability are devolved around the UK, but the NICE guidance should also apply in Wales and Northern Ireland. Scotland may follow suit next year.
The other treatment, Sativex, is a mouth spray that contains a mix of THC and CBD.
It has been approved for treating muscle stiffness and spasms, known as spasticity, in multiple sclerosis. But doctors will not be allowed to prescribe it to treat pain.
It was the first cannabis-based medicine to be licensed in the UK after clinical trials, and has been available on the NHS in Wales since 2014. It costs around £2,000 a year per patient.
Back then, regulators in England said it was not cost effective, but now that decision has been reversed. It should also be available in Northern Ireland.
What has been the reaction?
Prof Helen Cross, a consultant in paediatric neurology at Great Ormond Street Hospital, who led UK trials of Epidyolex said it was "great news".
"Dravet and Lennox Gastaut syndromes are both complex difficult epilepsies with limited effective treatment options and this gives patients another option… that could make a difference to care," she said.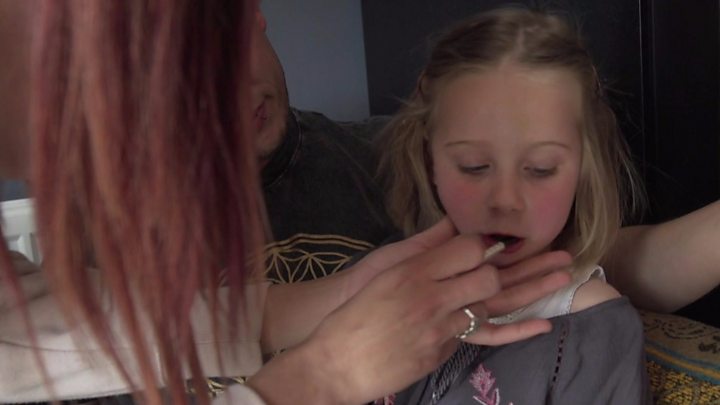 Galia Wilson, chairwoman of Dravet Syndrome UK, said: "Many families come to us asking about the potential of cannabis-based medicines, particularly cannabidiol, and we are thrilled that one is now available on the NHS."
But not everyone is happy. Many parents of children with epilepsy are paying thousands of pounds a month for medicines imported from Europe and Canada that contain both THC and CBD.
They have reported dramatic reductions in the number and severity of seizures in their children, and are furious that NICE has not approved any cannabis-based medicines for childhood epilepsy that contain both components.
The campaign group, End Our Pain, said the new guidelines were a "massive missed opportunity".
Spokeswoman Millie Hinton said: "This restrictive guidance is condemning many patients to having to pay for life-transforming medicine privately, to go without or to consider accessing illegal and unregulated sources."
How did we get to this point?
The law was changed in November 2018 to allow specialist doctors to prescribe cannabis medicines, but this has happened in only a handful of cases.
Most doctors have been unwilling to write prescriptions for medicines because, unlike Epidyolex and Sativex, they have not been through randomised controlled trials.
Multiple sclerosis charities also argue the guidelines from NICE do not go far enough.
Genevieve Edwards, from the MS Society, said they had been campaigning for access to Sativex for years and "it was brilliant NICE has finally listened".
However, she said the guidelines did not go far enough because no cannabis-based treatments had been recommended to treat pain – a common symptom of MS.
She also added that even more people could miss out "because Sativex would be funded by local bodies – who might not have the resource they need to prescribe it".
Africa: Greener, Longer Life – More Trees Reduce Premature Deaths in Cities
Tbilisi — City dwellers tend to live longer if they are in leafy neighbourhoods, according to a study that links green areas to lower rates of premature death
City dwellers tend to live longer if they are in leafy neighbourhoods, according to a study published on Wednesday that linked green areas to lower rates of premature death.
Trees in cities are already credited with cooling and cleaning the air and absorbing planet-warming gases, now researchers at the Barcelona Institute for Global Health have found they also keep death at bay.
"More green space is better for health," said Mark Nieuwenhuijsen, director of the institute's urban planning, environment and health initiative. "People actually live longer if there is more green space around."
The research, which pulled data from nine other studies involving more than eight million people in seven countries from China to Canada, was the largest ever conducted on the subject, the authors said.
Researchers used satellite images to quantify how much vegetation, including trees, grass and shrubs, was within 500 meters (550 yards) of people's homes.
Levels of vegetation were ranked on a scale under a system known as normalized difference vegetation index (NDVI).
Those involved in the study were followed for several years. Any premature deaths caused by health conditions such as heart or respiratory diseases were factored in.
The study, published in The Lancet Planetary Health journal, found that in cities from Barcelona to Perth, a 10% increase in greenery led to an average 4% reduction in premature mortality.
While researchers did not look into specific causes, Nieuwenhuijsen said access to vegetation was known to benefit mental health, reduce stress, cut pollution and encourage physical activity.
"What we need to do is increase green space in many cities … so that people can actually live a healthy life," he told the Thomson Reuters Foundation by phone.
A "nice green city" would have between 20% and 30% of every area covered in vegetation, he said.
With the United Nations estimating two-thirds of the world's population will live in urban areas by 2050, many cities are already looking at ways to increase greenery, according to the C40 network of cities tackling climate change.
Medellin in Colombia has planted thousands of trees to form "green corridors" along main roads, while Australia's Melbourne was looking to almost double its canopy cover to 40% by 2040.
"Green spaces are good for cities and good for citizens," Regina Vetter, who manages C40's "Cool Cities Network" said in a statement.
"Trees, meadows, wetlands and other green space are also vital to prepare our cities for the impacts of the changing global climate. They reduce the risks of flooding, lower temperatures and improve air quality."
(Reporting by Umberto Bacchi @UmbertoBacchi, Editing by Claire Cozens. The Thomson Reuters Foundation is the charitable arm of Thomson Reuters and covers humanitarian news, women's and LGBT+ rights, human trafficking, property rights, and climate change. Visit http://news.trust.org)
Our Standards: The Thomson Reuters Trust Principles.
Shipments of Apple Inc.'s popular AirPods wireless earphones are expected to double to 60 million units in 2019, according to people familiar with the Cupertino-based company's production plans. This has been driven in part by "much higher" than expected demand for the pricier AirPods Pro model unveiled in October.
The $249 AirPods Pro — which offer noise cancellation and water resistance — have surpassed expectations and demand for them is pushing Apple's assembly partners against capacity and technical constraints, a person familiar with the matter said. Multiple suppliers are competing for the business of manufacturing the Pro earphones, though some are still building up the technical proficiency. There's currently a wait time of two to three weeks for the AirPods Pro on Apple's U.S. website.
The most advanced form of wireless headphones is called "true wireless," defined by the absence of a wire not just between the headphones and the music source but also between the two earbuds — and the AirPods are the category-leading example. Taiwan-based Inventec Corp. and China's Luxshare Precision Industry Co. and Goertek Inc. manufacture the AirPods for Apple.
Apple spokeswoman Trudy Muller declined to comment on the product's shipments.
The pickup in AirPods sales this year has been helped by the launch of two new iterations: the Pro model in October and a $199 upgraded version of the original in March. The first AirPods were released in 2016. The runway is also mostly clear for Apple to have a successful holiday season, with Microsoft Corp. delaying its rival true wireless buds until spring and Google also not launching its new model until 2020.
At the end of August, Apple was the clear leader in the global true wireless earphones market, according to Counterpoint Research. AirPods shipments have dwarfed every alternative and the Beats Powerbeats Pro, another Apple product, also feature in the top 10 sellers. While Samsung Electronics Co.'s Galaxy Buds have emerged as a recognizable competitor, Apple moreover ranked as the most preferred brand for future purchases of true wireless headphones in the U.S., the researchers said.
"Apple also edged rivals because true wireless as a category is the preferred choice over wireless earphones, due to factors like better sound quality, portability, and ease of use," Counterpoint analyst Pavel Naiya wrote on Sept. 26.
Wearables like the AirPods and Apple Watch have become a crucial growth driver for the Cupertino company, which is adapting to plateauing iPhone demand in a mature smartphone market. In the past quarter, Apple's iPhone sales shrunk to $33.4 billion from the prior year's $36.8 billion, whereas the Wearables, Home, and Accessories segment — composed of the Apple Watch, AirPods, Beats, HomePod and Apple TV groups — generated $6.5 billion in revenue, growing by 54%.
Total shipments of the AirPods Pro for the year will be determined by how well and how quickly the assemblers overcome the production challenges they currently face. If the overall AirPods range hits 60 million units in 2019 as is now expected, Apple should retain its 50% share of the true wireless market, which Counterpoint expects to surpass 120 million shipments for the year.
Chilean security forces 'intentionally' attacked protesters to 'punish' them: Amnesty
SANTIAGO (Reuters) – Chilean police and soldiers backed by their commanders have carried out "generalized" attacks on people protesting over inequality with the intention of "punishing and harming" them, Amnesty International said in a report published on Thursday.
A demonstrator is pulled from his hair while is detained by riot policemen during a protest against Chile's government in Santiago, Chile, November 21, 2019. REUTERS/Pablo Sanhueza
Erika Guevara Rosas, the rights group's Americas Director, told Reuters that its investigative team, sent to the country to weigh allegations of excessive force and rights violations by security forces, had found evidence of abuses not normally seen outside troubled Latin American nations like Venezuela, Nicaragua and Honduras.
She said they had been "shocked" to find evidence of excessive force used in Chile, widely seen as one of the region's most democratic and stable nations.
Amnesty said it had confirmed five deaths at the hands of security forces, as well as credible evidence of protesters being shot at with live ammunition, sexually abused, tortured, beaten, and run over. There was a repeated pattern of abuse that suggested intention, it said.
Rosas said police and army personnel had broken international law in the use of live ammunition in crowd control and its own protocols in the liberal use of rubber bullets and tear gas.
A spokesman for the Chilean police said all allegations that had been formally reported would be investigated.
The army said it had not seen the Amnesty report but that it had an "iron-clad commitment" to observing human rights, and would "actively collaborate" in the investigation into the four deaths attributed to its troops. It added that when deployed for the nine-day state of emergency, it issued "special instructions" to its forces to ensure there was no excessive use of force or weaponry.
Rosas said Chilean President Sebastian Pinera was responsible for failing to acknowledge the abuses or condemning them swiftly. She said his claim last month that "we are at war" fed "the violent repression we have seen on the streets."
"There was an intention to punish people and this came not just from the police and military on the streets but also those under whose command they were," she said.
"If this was punishment of the people who were protesting against government policies, then the highest levels of government, including Pinera, have a responsibility for the human rights violations."
Pinera told reporters in a briefing at La Moneda that his government had written the rules governing use of force in Chile – and updated them in March.
"If the protocols were not complied with – and I believe that it is possible that in some cases they were not – that will be investigated by prosecutors and will be punished by the courts of justice. That's how a democracy works, that's how a rule of law works," he said.
On Sunday, the president acknowledged there had been "some" excessive use of force, abuse and crime and vowed "no impunity" for police and soldiers found responsible.
Chile has seen a month of both peaceful protests and violent riots that started over anger at a hike in public transport fares and broadened to include grievances over low pensions and salaries, the high cost of living, and security force abuses.
The unrest has left at least 23 dead, 7,000 detained, over 2,000 demonstrators hospitalized and more than 1,700 police officers injured, according to authorities and rights groups. More than 200 people have been hit in the eyes with tear gas canisters and rubber bullets, doctors have said.
Prosecutors are examining more than 2,000 allegations of abuses by security forces, the head of the public prosecutor's rights division told Reuters last week.
Reporting by Aislinn Laing, Editing by Rosalba O'Brien, Bernadette Baum and Bill Berkrot