A Boogie Wit Da Hoodie reveals that he is taking a break from music after the released of his upcoming album.
Despite having success in the music industry since his debut album, The Bigger Artist, dropped in 2017, A Boogie Wit Da Hoodie has announced he may be taking a step back from his career following the release of his upcoming album, Artist 2.0. The rapper, singer, and songwriter, took to Instagram on Saturday, saying, "This might be my last project for a while…There's a lot of things I wanna do in life and it's moving too fast for me to focus on everything at once."
He went on to assure his fans that he wasn't leaving them entirely, saying, "But I will never let my fans down. When you need me most, I'll be there."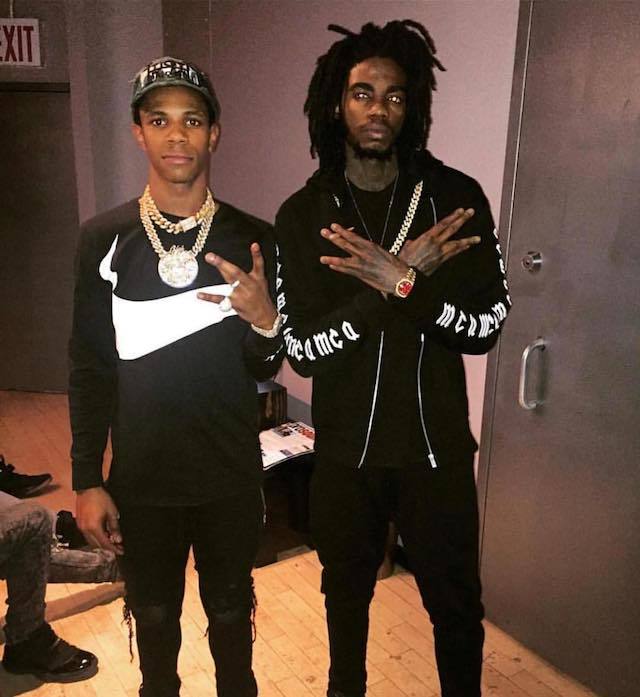 A Boogie also used Instagram to ask fans their opinions about the length of his upcoming album, claiming that he has too many songs for Artist 2.0. The rapper put up two polls asking the fans to choose how they want the album organized, as well as how many tracks they would prefer to hear. It seems that even though A Boogie is planning to leave the music scene for a while, he is going to leave fans with at least twenty new songs.
A Boogie Wit Da Hoodie, born Julius Dubose, is only 23 years old and has already made a name for himself among east coast artists, collaborating with other prominent artists such as Kodak Black and Khalid. He has now joined other hip-hop artists who have started publicly discussing their desire to find balance in their life.
Recently, Chance the Rapper announced that he would be taking a break from music to stay home with his wife and newborn baby. Similarly, A Boogie is recognizing that he has other goals in his life that don't involve his career, and he needs to dedicate time and energy to those pursuits as well.
Dancehall Icon Tanya Stephens Calls Out Jamaicans Who Comfort Rapists
Singjay Tanya Stephens this morning ripped into lovers of Reggae music, many of whom she says are quick to exonerate people who have been accused of rape and other types of sexual assault.
"You know Jamaica and extended community and reggae lovers especially. It always amazes me the speed at which you rush to comfort and reassure and support people accused of rape. It always f*ckin amazes me that you are so sure, people you are not standing next to, you are not in their environment and you don't know them. You are always so sure they are innocent. And what I find extremely excruciatingly painfully amazing," Tanya said in a video post on IG.
"Big ups to oonu. Big up oonu bl**dclaat self!" Stephens who says she too is a survivor of rape, added sarcastically. "Me feel torn and me hate the 14 p*ussyclaat parish! Who me nuh hate fi dem noise me hate fi dem fucking silence! #rapeculture," the artiste also noted under the video in response to a comment from a fan.
In late 2016, at the height of the Bill Cosby rape debacle, Stephens had opened up on Facebook about being raped as a teenager, more than two decades ago. At the time, she wrote in an 841-word post that she was violated twice, first at age 17 and then again at age 19.
"I was first raped at age 17 by someone many of you glorify. I watch you call him a good man, and I hear you demonise me for "talking about rape too much"," the Boom Wuk artiste wrote at the time.
Stephens had said one of the men in question was popular, that she was a 'nobody' and that he had proclaimed himself to be a 'big brother' for her. As a consequence, she said, she did not report the incident because she was sure that nobody would believe her due to the man's status and reputation in the music industry.
"When I was told I was too young to be hanging out at studios he came and reassured my big sister I would be safe," she had noted.
The second time she said, she was gang-raped by a man she thought to be her boyfriend and his cronies, including the son of a law enforcer, which she said, along with the shame, was the main reason she did not report that matter either.
She said her self-esteem was in tatters and that she bore the brunt of rape jokes and was even pointed out in public by women as "di gyal deh weh dem battery a Frontier". Even members of the crew of which she was a part which used to perform at local dances, ostracized her.
"MANY times I attempted to tell family members. COUNTLESS. EVERYBODY had up a block,' she wrote.
Eva Marcille's Baby Daddy Kevin McCall Threatens Chris Brown As He Leaves Jail
Kevin McCall continues his erratic behavior after leaving jail, even threatening Chris Brown.
Kevin McCall doesn't seem to be putting a stop to his reckless behavior, only days after being released from jail. McCall was thrown behind bars for allegedly assaulting a courthouse security office. Now the producer, rapper, singer, and ex to Real Housewives of Atlanta star Eva Marcille, is coming for his former friend and collaborator, Chris Brown, along with Breezy's entire fan base. McCall posted an old picture of Chris and himself on Instagram with the caption, "you still running rom your put-on come let me beat you up so u can throw up the hooks."
He followed his threat up with another disturbing post directed at Chris Brown fans, saying, "Imma post this everyday until somebody from Team Breezy commit suicide… I want them all to kill themselves and get it over with. They some miserable irrelevant little fu**ers who never fight in person."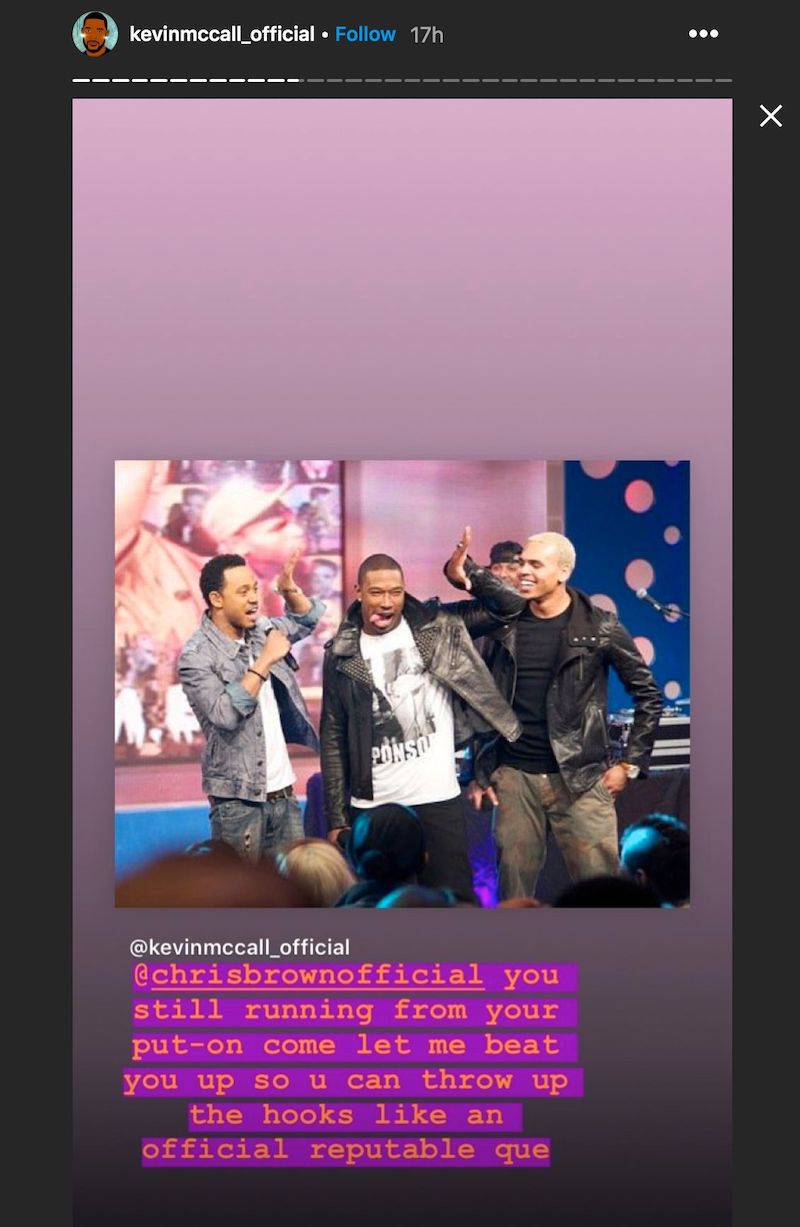 Chris Brown signed McCall to his label after they collaborated on the hit song, "Deuces". Kevin later commented on the deal, saying he felt cheated, but that he blamed himself for not taking a closer look at the paperwork. Since then, McCall has had his share of drama. Eva Marcille, the America's Next Top Model winner and television personality, spoke with People magazine about her tumultuous relationship with the singer, explaining that he became violent towards her during her pregnancy with their child, Marley Rae.  McCall later denied those allegations.
Kevin McCall's recent courtroom outburst happened during a custody hearing regarding his and Eva's daughter.  According to Fulton County Sheriff's Office, McCall swatted away a sergeant's hand after refusing to stop recording on his phone inside the courtroom, and when they eventually attempted to detain him, McCall fought back. McCall and the security officer eventually fell down an escalator, and McCall was charged with four misdemeanors.
French Montana Hospitalized For Elevated Heart Rate And Nausea
French Montana has been sent to the hospital in Los Angeles for alleged heart rate issues.
"Unforgettable" rapper French Montana was rushed to the hospital Thursday after experiencing a mixture of health issues, according to TMZ. Police were initially called to his Los Angeles home Thursday afternoon around 1:30 p.m. for a report of a robbery, but that ended up being a false alarm. Instead, authorities found French Montana acting "abnormal," and sources told TMZ that the 35-year-old was suffering from an elevated heart rate, nausea, and severe stomach pains.
Deputies immediately called an ambulance to French's Calabasas home, and he was rushed to San Fernando Valley hospital. Reports said the MC was awake and alert while being treated with IV fluids, and was scheduled to be released by the end of the day on Thursday.
It wasn't clear what caused the health issues, but TMZ said French had just got back from a busy travel schedule, including trips to the Middle East and Europe. His camp said he might have caught a bug from contaminated food.
French Montana released his new album, Montana, due sometime soon. The project will feature singles like "Slide," featuring Blueface and Lil Tjay, "Suicide Doors" featuring Gunna, and "Writing On The Wall" featuring Post Malone, Cardi B, and Rvssian. He also has a new single coming out with dancehall diva Shenseea.
We wish French Montana a speedy recovery!