Nicki Minaj is officially Mrs. Petty.
The Trinidadian rapper confirmed via her Instagram page that she and her boo Kenneth Petty have officially tied the knot in a secret wedding. Nicki Minaj shared a short video clip showcasing some souvenirs like caps and cups with Mr. Petty and Mrs. Petty written on them. While she didn't share any additional details about her wedding, she said enough to confirm that she is officially off the market. "Onika Tanya Maraj-Petty 10•21•19," she wrote.
Nicki Minaj and Kenneth Petty dated when they were teenagers growing up in New York before she became a household name as one of the greatest female rappers to ever take up the mic. Nicky dated Safaree Samuels for 12 years before they called it quits in 2014 over allegations that she cheated on him with Meek Mill. She then dated Meek Mill for two years before they too called it quits for unknown reasons. Between 2016 and 2018, she has been linked to Nas and Race Car driver Lewis Hamilton.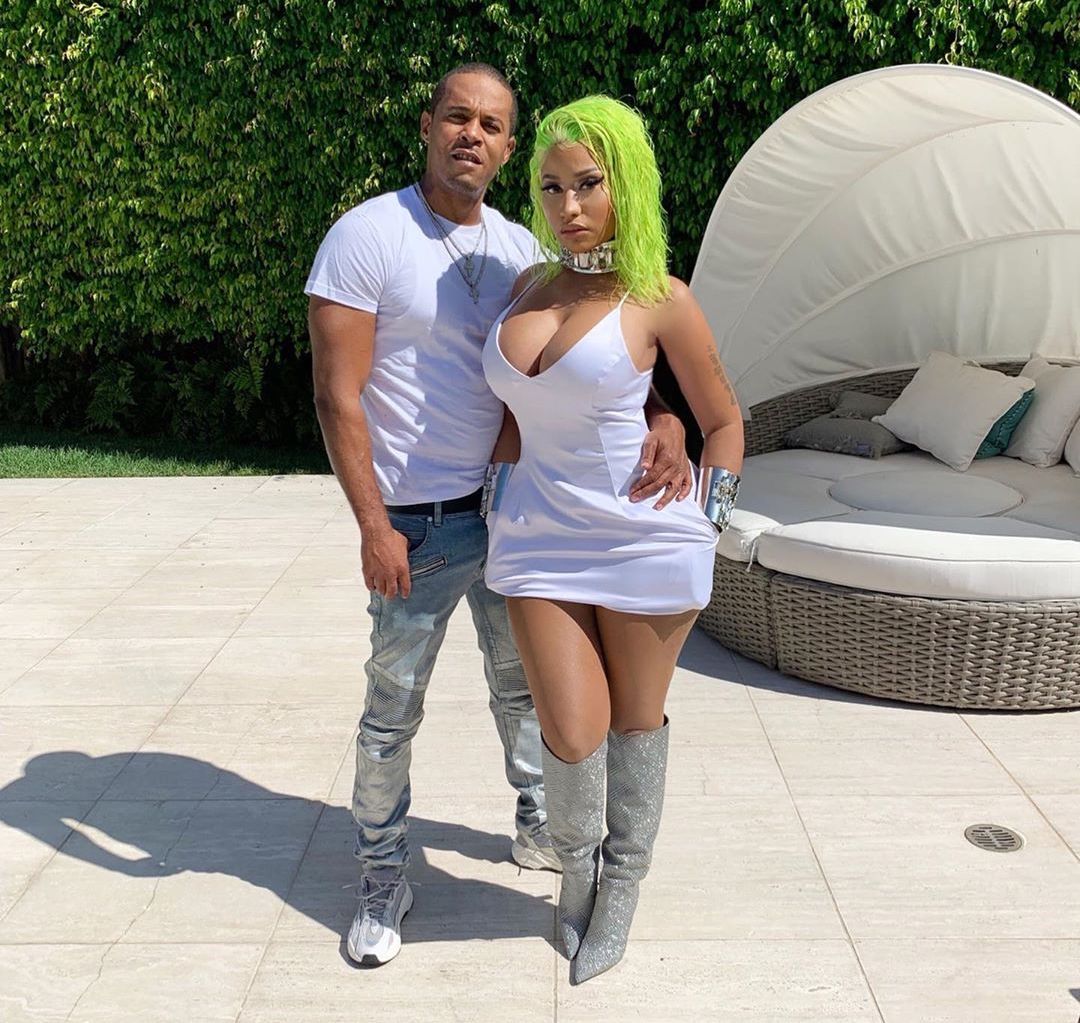 Late last year, Nicki Minaj rekindled her relationship with her childhood sweetheart, Kenneth "Zoo" Petty. She received a lot of criticisms from her fans over their relationship, mostly because of Petty's history of serving time behind bars for various crimes, including alleged rape and murder.
Nicki Minaj pushed back against the criticisms, saying that her happiness is all that matters to her and that Petty makes her happy. She also revealed that she would be getting married before dropping off her next album, which is slated for release sometime this fall. There are some folks who are saying that Nicki rushed to get married in response to her ex-boyfriend Safaree Samuels getting married to Erica Mena. The two Love and Hip Hop stars tied the knot a few weeks ago, and Mena is currently pregnant with the couple's first child.
Eva Marcille's Baby Daddy Kevin McCall Threatens Chris Brown As He Leaves Jail
Kevin McCall continues his erratic behavior after leaving jail, even threatening Chris Brown.
Kevin McCall doesn't seem to be putting a stop to his reckless behavior, only days after being released from jail. McCall was thrown behind bars for allegedly assaulting a courthouse security office. Now the producer, rapper, singer, and ex to Real Housewives of Atlanta star Eva Marcille, is coming for his former friend and collaborator, Chris Brown, along with Breezy's entire fan base. McCall posted an old picture of Chris and himself on Instagram with the caption, "you still running rom your put-on come let me beat you up so u can throw up the hooks."
He followed his threat up with another disturbing post directed at Chris Brown fans, saying, "Imma post this everyday until somebody from Team Breezy commit suicide… I want them all to kill themselves and get it over with. They some miserable irrelevant little fu**ers who never fight in person."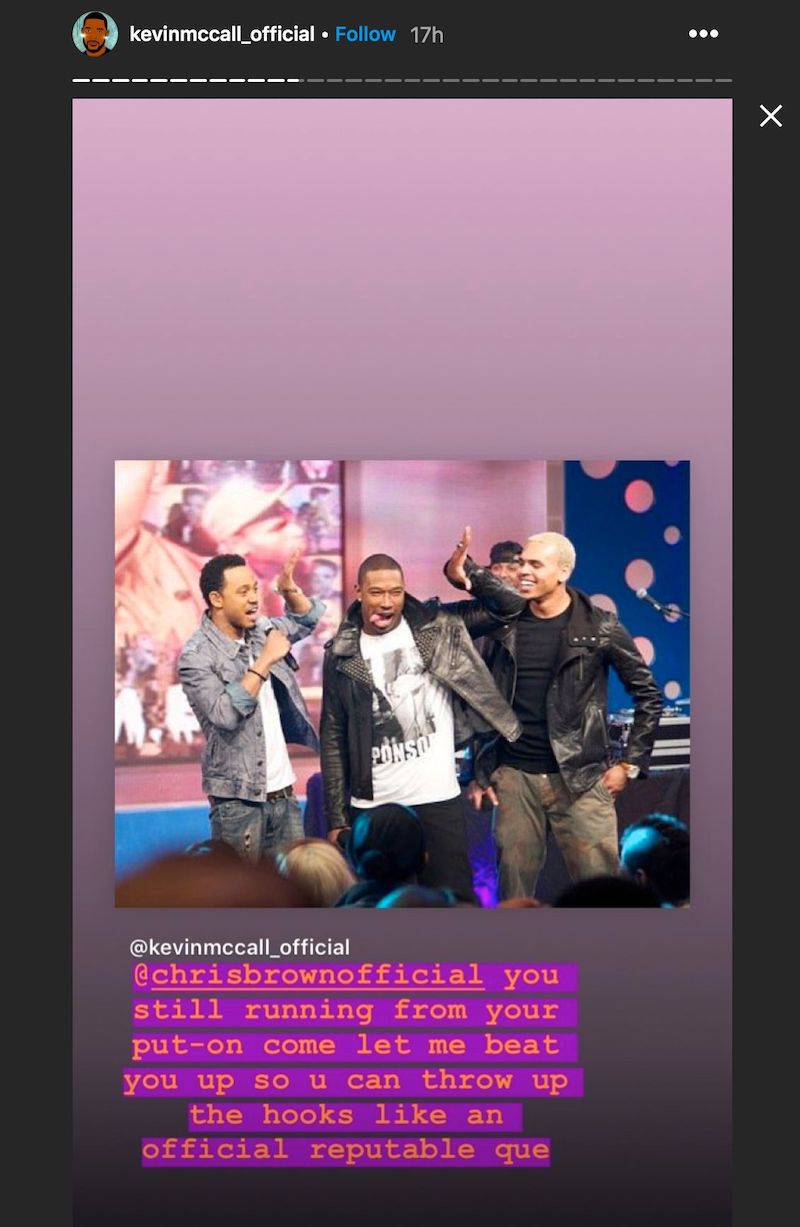 Chris Brown signed McCall to his label after they collaborated on the hit song, "Deuces". Kevin later commented on the deal, saying he felt cheated, but that he blamed himself for not taking a closer look at the paperwork. Since then, McCall has had his share of drama. Eva Marcille, the America's Next Top Model winner and television personality, spoke with People magazine about her tumultuous relationship with the singer, explaining that he became violent towards her during her pregnancy with their child, Marley Rae.  McCall later denied those allegations.
Kevin McCall's recent courtroom outburst happened during a custody hearing regarding his and Eva's daughter.  According to Fulton County Sheriff's Office, McCall swatted away a sergeant's hand after refusing to stop recording on his phone inside the courtroom, and when they eventually attempted to detain him, McCall fought back. McCall and the security officer eventually fell down an escalator, and McCall was charged with four misdemeanors.
French Montana Hospitalized For Elevated Heart Rate And Nausea
French Montana has been sent to the hospital in Los Angeles for alleged heart rate issues.
"Unforgettable" rapper French Montana was rushed to the hospital Thursday after experiencing a mixture of health issues, according to TMZ. Police were initially called to his Los Angeles home Thursday afternoon around 1:30 p.m. for a report of a robbery, but that ended up being a false alarm. Instead, authorities found French Montana acting "abnormal," and sources told TMZ that the 35-year-old was suffering from an elevated heart rate, nausea, and severe stomach pains.
Deputies immediately called an ambulance to French's Calabasas home, and he was rushed to San Fernando Valley hospital. Reports said the MC was awake and alert while being treated with IV fluids, and was scheduled to be released by the end of the day on Thursday.
It wasn't clear what caused the health issues, but TMZ said French had just got back from a busy travel schedule, including trips to the Middle East and Europe. His camp said he might have caught a bug from contaminated food.
French Montana released his new album, Montana, due sometime soon. The project will feature singles like "Slide," featuring Blueface and Lil Tjay, "Suicide Doors" featuring Gunna, and "Writing On The Wall" featuring Post Malone, Cardi B, and Rvssian. He also has a new single coming out with dancehall diva Shenseea.
We wish French Montana a speedy recovery!
Offset Cop A New Ferrari To Celebrate His Grammy Nomination
Cardi B's husband Offset drop some serious cash on a new Ferrari to celebrate his Grammy nomination.
For the average Joe, celebrations may entail a night out on the town or just drinking with friends, but let's be real, this is Offset that we are talking about. If the engagement ring he got for the love of his life is anything to go by, we can definitely understand how Offset would treat himself when he does something big. The Migos rapper went all out and splurged on a red Italian masterpiece, a Ferrari Spider. He took to Instagram to show off his latest addition to his already lavish car collection.
He captioned the video, "AFTER THE GRAMMY NOMINATION I NOMINATED MYSELF WITH A RARI."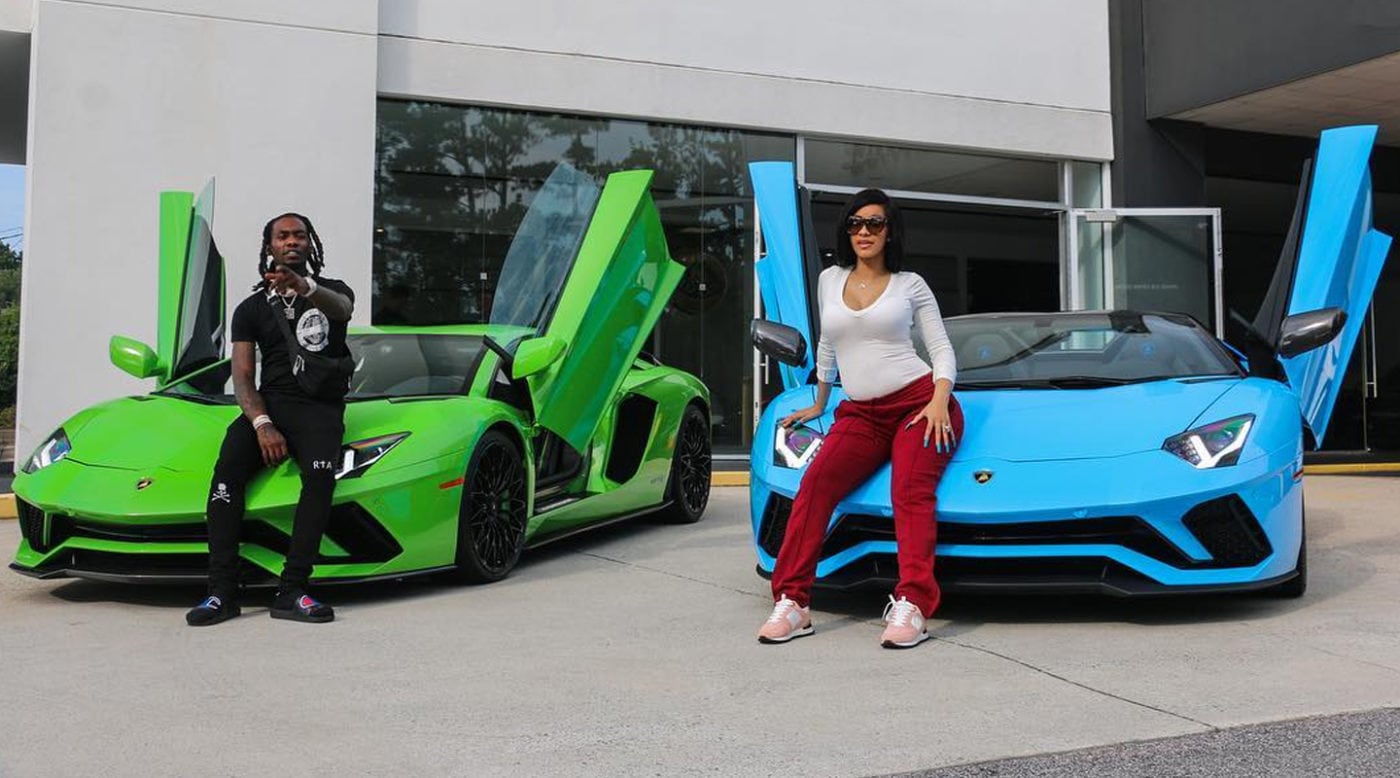 His collection already boasts other luxury brands such as Bentley, Rolls Royce, and Mercedes. He also has three muscle cars in the likes of 2 Dodge Challenger Hellcats and a Dodge Charger. The addition of the Ferrari should see less driving time for the other rides because let's face it, who can have a bright red beast and not take it for a spin every chance you get.
Offset and Cardi B were both nominated for the Best Rap Performance for the hit single "Clout," featured on his debut solo album Father of 4. Even if Offset does not get an actual award at the 62 Annual Grammy Awards taking place in L.A., he is definitely writing down being nominated as a huge milestone.
We hope to see more shots of Offset's new whip as the days go by.